Tiangang® HS-630
Low Volatile Hydroxyphenyl-Triazine UV Absorber

Chemical name
Hydrowxyphenyl triazine derivative
Description
Tiangang® HS-630 is a highly effective hydroxyphenyl-trazine UV absorber, which features both highly effective UV absorption, and low volatility. Compared to conventional bezotrazole UV absorbers, it gives polymers better protection against UV light. It is compatible with a range of polymers, co-additives and resin compositions, including polycarbonates and polyesters. It is also suitable for application in various polymer blends and alloys, such as PC/ABS, PC/PBT, PPE/IPE, PPE/PA and copolymers as well as in reinforced, filled and/or flame retarded compounds.
0.2 - 6% by weight can be readily incorporated into the polymer by using conventional techniques, e.g., powder, solution, or melt blending. When used with other Tiangang® HALS products often a synergistic performance is observed.
Absorption Spectrum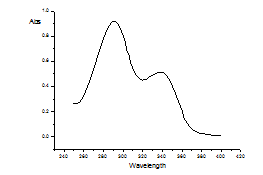 Typical properties

 
Appearance
Specific gravity, g/cm3@ 25oC
Melting range
oC
Tiangang® HS-630
Light yellow powder
1.15
88.0 - 91.0

Volatility

 
Weight loss
2%
5%
10%
Tiangang® HS-630
Temperature
(oC)
307
327
343

Safety & handling

| | |
| --- | --- |
| Tiangang® HS-630 | The use of proper protective equipment is recommended. Excess exposure to the product should be avoided. Wash thoroughly after handling. Store the product in a cool, dry, well-ventilated area away from incompatible materials. |
| | |
| --- | --- |
| Disclaimer | The information supplied is presented in good faith and has been derived from sources believed to be reliable. Since conditions of use are beyond our control, all risks are assumed by the user. No representation is expressed or implied, and nothing herein shall be construed as permission or recommendation to practice a patented invention without license. |
Light Stabilizer for Plastics
Light Stabilizer for Coatings